Discover more from The #AmWriting Podcast
You've found #AmWriting! Click "let me see it" for shownotes right NOW or add your email below to get shownotes and a handy guide to following our Blueprint for a Book Challenge.
Over 9,000 subscribers
Top Five BookBub Secrets for Authors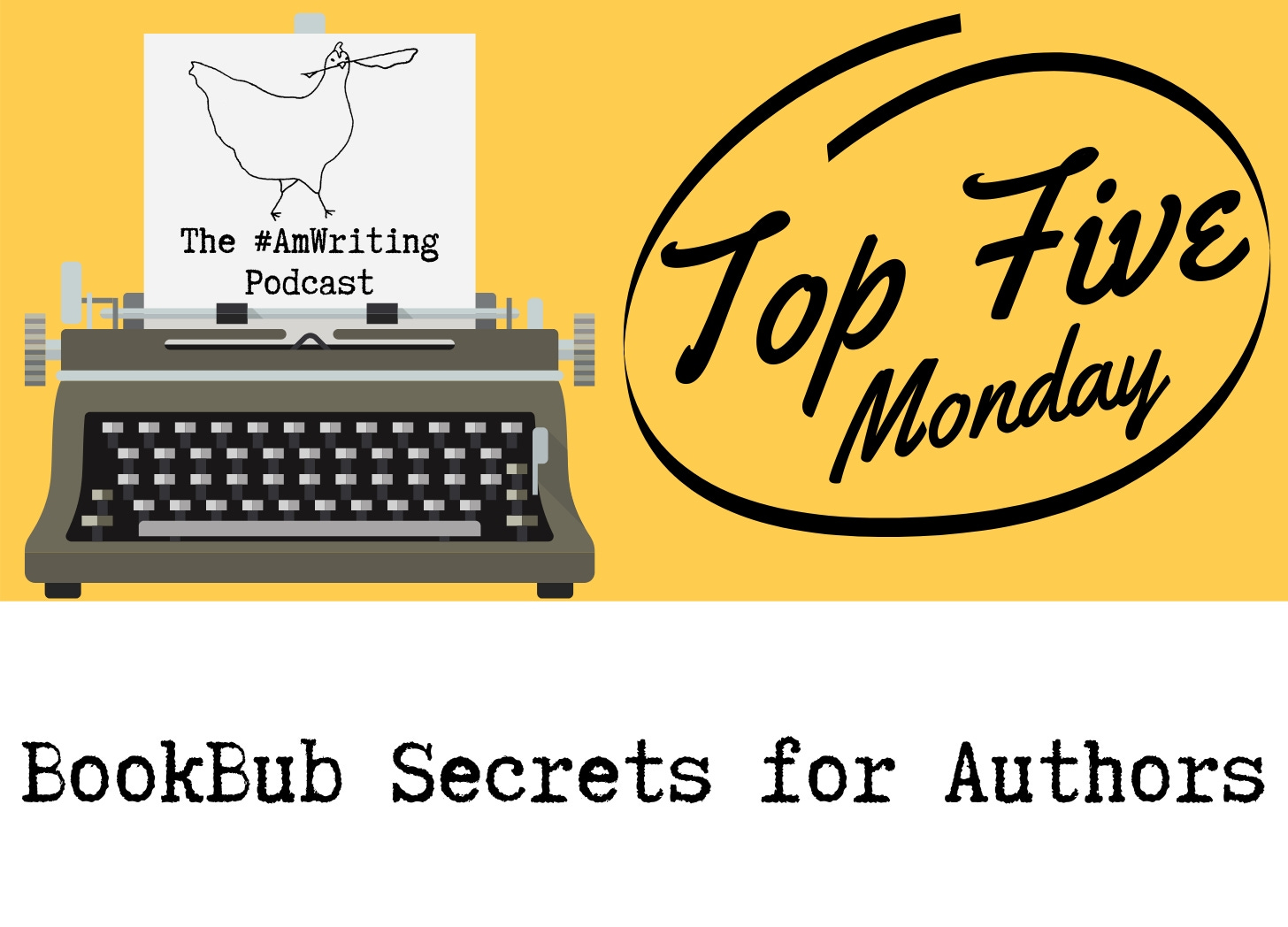 Haven't heard of Bookbub yet? Well hustle over there, because it may just be the fastest growing publisher partner authors have these days. 
On the face of it, Bookbub is an email newsletter for bargain-priced ebooks. But don't be fooled. Bookbub is also a big book recommendation engine with millions of subscribers. 
1. Your first step at Bookbub should be signing up for daily or weekly bargain emails in the genre of your choice. Take some time to add books to your library, and getting a feel for how the site works. Some of the recommendation and review functions feel like a cleaner, lighter Goodreads. If your book is published (or on pre-order), head over to partners.bookbub.com and set up your author profile. You can add a photo and a bio, and even list the genre(s) in which you write.
2. This is big: if your author profile gains followers, Bookbub will send an email to them on your book's launch date. For free. So it's worth your time to ask readers to follow you on the Bookbub platform. 
3. Furthermore, you can submit new books for a Featured New Release. This is a paid feature, accessible through the partners dashboard. Trying to build an audience? This is one way to get the word out about your new book. Each week the Featured New Release email goes out to millions of subscribers. If your book is picked, you can reach unfamiliar readers on the day when it counts most.
4. You can also try pay-per-click ads on Bookbub. Depending on the genres and authors you target, your ad can reach thousands of people for just a few dollars. These ads appear at the bottom of Bookbub's regularly scheduled promo emails. Unlike an ad on social media, these ads appear in front of guaranteed readers who are already looking for (and potentially purchasing) ebooks.
5. After your book has been out a while, consider the grand poobah of Bookbub promo power: the Featured Deal. These email promotions (costing at least a few hundred dollars each) are only for books on sale. You have to apply for the limited spots, which are curated by Bookbub's editorial staff. 
These ads always result in sales. Always. If you aren't given a slot,  you can try again in thirty days. And ask your publisher! Quite a few of the Big 5 publishers will pay for them, especially during the weeks just before your next book comes out.
The #AmWriting Podcast sends a #WritersTopFive to supporters every Monday, and occasionally, we share one—like this one— with all of our email subscribers. Feel free to forward it to a friend who might enjoy it.
And if you'd like to get next Monday's #WritersTopFive: Top Five Reference Books for All Novelists, and Three More for Special Occasions, become a #AmWriting Podcast supporter! Supporters get:
Our weekly #WritersTopFive email, featuring fast, fun, actionable advice from KJ, Jess, Sarina and our guests on writing topics including:
Top 5 Questions to ask Your Main Character
Top 5 Newsletter Subject Lines (coming soon!)
Top 5 Ways to Start an Agent Query (coming soon!)
Top 5 References for Dictating Your Work
and subscriber-only bonus PODCAST SHORTS. A little weekly inspiration from one of us every Monday, straight into your podcast feed, but only for supporters. Want in? Click the button.