Discover more from The #AmWriting Podcast
You've found #AmWriting! Click "let me see it" for shownotes right NOW or add your email below to get shownotes and a handy guide to following our Blueprint for a Book Challenge.
Over 9,000 subscribers
Top 5 Ways to Find the Right Agent to Pitch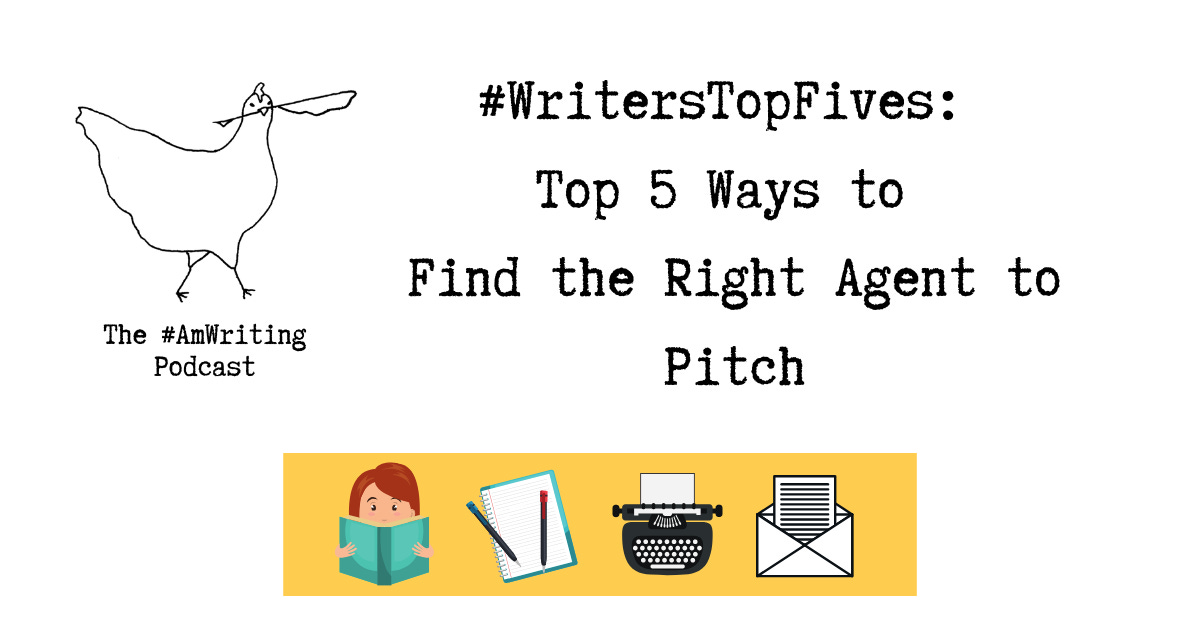 It's not just about getting the  pitch right. You've got to pitch the right agents.
Hey writers--It's the first #AmWriting #WritersTopFive of 2020 and we just HAD to share it. These go out to supporters every Monday, and occasionally, we share one—like this one— with all of our email subscribers. Feel free to forward it to a friend who might enjoy it—or share it on social and help us expand our community! Share on Facebook. Share on Twitter.
Whether you're writing fiction or nonfiction, memoir, YA or self-help, for most of us, finding an agent is a key step on the road to traditional publishing. But you can't just Google "literary agents" and start with the first email address you find (I know, you knew that, but still). You want to find the right agents--agents who will welcome your pitch or at least give it a chance. The best way to doom yourself to repeated rejection is by pitching your sci-fi thriller to agents who represent only cozy mysteries and inspirational cat memoirs. So unless you want to fail (a condition which, while not uncommon, is beyond the scope of this list), heed these 5 suggestions and at least you'll know you're pitching in the right stadium.
Listen and read. You'll find three #AmWriting podcasts about finding agents at the bottom of this list, but don't stop there. Listen to agents on other podcasts; find articles various agents (in your genre or not) have written on  how they're pitched and how they work, reread The Forest for the Trees, read 

Snuggle up to those comps. If you're pitching non-fiction, you've got a list of "comparable titles" right there in that proposal you've been working on. Fiction? You know who your ideal reader is, and what that reader loves (chances are they're titles you love yourself). Search online for "[Malcolm Gladwell] agent" and if that yields nothing useful, head to your bookshelves and then the bookstore and flip the pages straight to the acknowledgements section. Agents might be named as such, or called out for their help, faith, belief and tireless efforts but either way, they will be thanked.

Straight up search. Concoct the most specific set of search terms you can imagine [literary agent insects fear biology coming-of-age memoir] and see what you get. You're not looking for a list of names, necessarily (although run that search and you'll find some lists of agents looking for memoir). You're looking for agents that might have given an interview and used those terms, other books that you might add to your comp list, random writers who've mentioned their agents online in a context that somehow relates to your pitch. You're widening your net. 

Hit social media. Follow any agent you're eying on the platform you love, and then look closely at the "suggested follows" that accompany them and fill your feed. MSWishlist.com (#MSWL) agregates tweets from agents and editors on their "wish lists"--it's a rabbit hole of epic proportions, but also a place to find both established agents and fresh faces—and, while you're at it, get super current on what people are looking for and how they phrase it, which can be key to successful pitching. 

Get specific. You should have a long list of possibilities--now, it's time to hone in. Chose 10 and search each one of them directly, first making sure they really are interested in what you're offering (agents change, just like everyone else, and just because they represented one of your comps doesn't mean they're still working in that area), and then making sure you know how to pitch them--how to address them, what to include and what to expect once you're pressed send. (I'd suggest a spreadsheet for this). 
I know--you've still got questions. How many pitches should I send? What goes in a pitch? Do I pitch multiple agents or one at a time? How do I do this hard thing without losing my mind? You'll find some answers in Episode 19, #AgentSecrets; Episode 125 #FindingAnAgent and Episode 24 #AskAnAgent. And watch for Top 5 Things to Include in an Agent Pitch and Top 5 Steps to Actually Pitching Agents, both coming soon. 
If you loved this, please share! Share on Facebook. Share on Twitter.
Weekly #WritersTopFive emails usually go out to supporters and feature fast, fun, actionable advice from KJ, Jess, Sarina and our guests on writing topics including:
Top 5 Questions to ask Your Main Character
Top 5 Newsletter Subject Lines (coming soon!)
Top 5 Ways to Start an Agent Query (coming soon!)
Top 5 References for Dictating Your Work
We're also doing subscriber-only bonus PODCAST SHORTS. A little randomly timed inspiration from one of us every so often, straight into your podcast feed, but only for supporters. Want in? What a great way to launch 2020 and support us AND your writing goals! Click the button.