Oct 16, 2020 • 44M
Episode 233: #TruthsAndMisdemeanors, Lacy Crawford on the gauntlet of legal & fact-checking
Entertaining, actionable advice on craft, productivity and creativity for writers and journalists in all genres, with hosts Jessica Lahey, KJ Dell'Antonia and Sarina Bowen.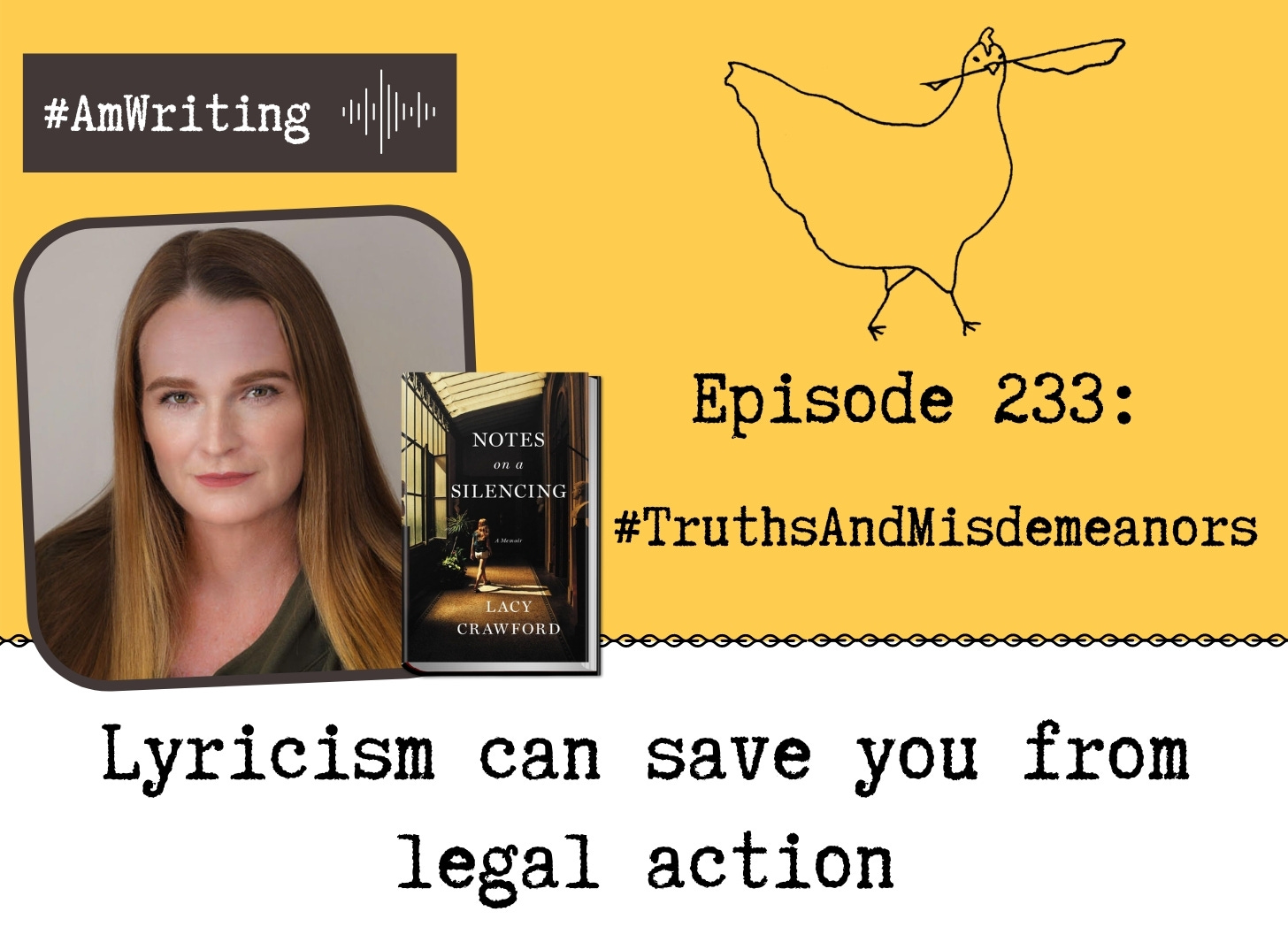 When I (Jess here) interviewed Lacy Crawford about her new memoir Notes on a Silencing, we discussed the complex and often contradictory goals of publishers' legal departments and fact checkers at periodicals such as Condé Nast/Vanity Fair, where Lacy's first serial excerpt was published. An article on nonfiction book fact checking (or the lack thereof) published in Esquire (by Emma Copley Eisenberg) made the rounds online in August, and many readers were surprised to discover that publishers don't fact check the books they publish. In fact, a standard clause in nonfiction book contracts indemnifies the publisher when it comes to the author's factual errors. What publishers do, however, is send the manuscript over to their legal departments to ensure they will not be held liable for defamation, an risk most authors mitigate by changing names or identifying details of some people in the book. Lacy explains how the goals of the legal department and the goals of fact checking are often at cross-purposes, and we come up with a few things authors should think about when selecting a excerpts for publications that will rigorously fact check.
Find Lacy Crawford:
On her website: www.lacycrawford.com
On Twitter: @lacy_crawford
We had so much to discuss we skipped #AmReading, but Lacy's first book, Early Decision, was a delight. It's a satire about the high-stakes, high-stress process of college admission.
Thanks to everyone who supports the podcast with $$$ on top of all the love and ears. To join that team, click the button below:
Because we do things for our supporters! Like weekly Minisodes When There's No Muse, Keep Going and Top Fives like Top 5 Ways to Prep for NaNoWriMo. And we are working on supporter-only discussions that we expect to be killer. So come on in, the water's fine.
Find more about Jess here, Sarina here and about KJ here and don't forget our sponsors and partners!
Have you checked out Author Accelerator's Book Coach training at bookcoaches.com/amwriting? Seriously, I am in for this (this is KJ). I've discovered I love helping people with their fiction just like I liked editing for the NYT, but I want to know what I'm doing before I start. So look for me at a training session near you, and check it out. They have great programs for fiction, non-fiction and making your side-gig full time—and they offer tuition help for BIPOC coaches as well—more info on that at bookcoaches.com/equity.
And if you haven't tried Dabble yet, YOU MUST. It has replaced Scrivener in our hearts in part because it's so much easier to use—and in part because we love the way it plots. Free trials for everyone, no need to remember a code, just go here.