Oct 9, 2020 • 46M
Episode 232 Smart, #Versatile and Writing all the Things with Morgan Jerkins
Entertaining, actionable advice on craft, productivity and creativity for writers and journalists in all genres, with hosts Jessica Lahey, KJ Dell'Antonia and Sarina Bowen.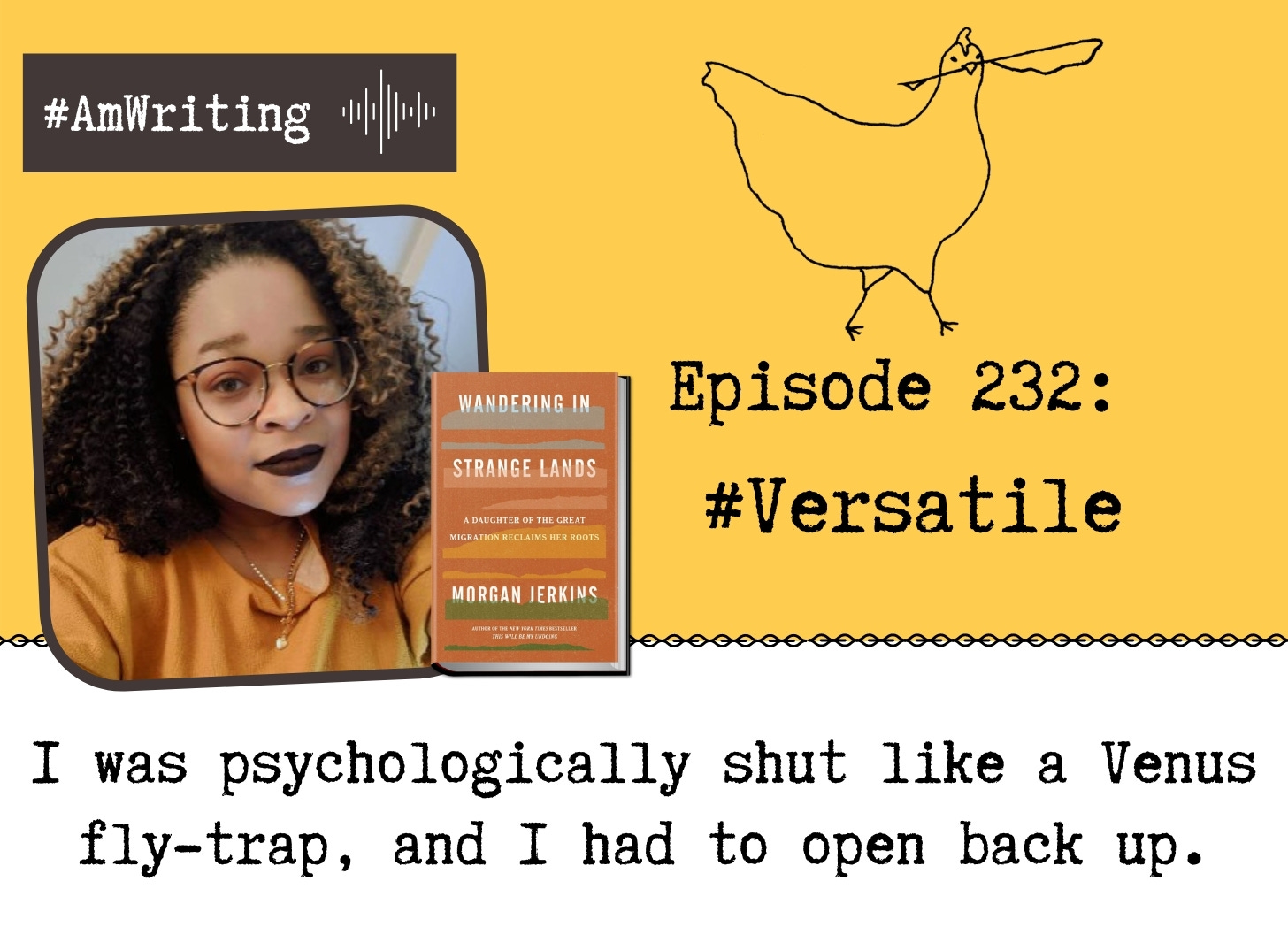 A book of essays. A memoir that's truly a family history and an American history. And—soon—a novel. Morgan Jerkins talks starting a writing career as a millennial, the privileges necessary to survive (financially) in New York City while pursuing a writing career and fighting the urge to let other people decide whether to take your work seriously.
We cover so much ground in this interview, from #publishingpaidme to interviewing skills to figuring out how much of your self belongs in your work, that we barely even grazed the surface of how much Morgan's current book, Wandering in Strange Lands: A Daughter of the Great Migration Reclaims Her Roots, taught her—and teaches the reader—about Black American history and how hidden it still remains from most of us of any heritage. If you enjoyed Isabel Wilkerson's The Warmth of Other Suns: The Epic Story of America's Great Migration or Caste, you'll love Wandering—and even if you didn't, if you're a fan of memoir, interested in family history and legend or are just a product of the typical white-centric education in American history and wish you knew more about the many other sides of the story, grab it.
Find Morgan Jerkins:
On her website: www.morgan-jerkins.com
and on Twitter: @MorganJerkins
#AmReading
Morgan: Girl, Woman, Other: A Novel by Bernardine Evaristo
Temporary by Hilary Leichter
Severance by Ling Ma
Pachinko by Min Jin Lee
KJ: Transcendent Kingdom by Yaa Gyasi
Sarina: Uncanny Valley: A Memoir by Anna Wiener
Unspeakable Acts: True Tales of Crime, Murder, Deceit, and Obsession by Sarah Weinman
We talk a LOT about money in this episode—huge thanks to everyone who supports the podcast financially. We hope you're enjoying supporter-only Minisodes like When There's No Muse, Keep Going and Writer Top 5s like Top 5 Tips to Getting a Great Interview. To join that team, click the button below:
But that doesn't have to be you! The pod is free as it always has and always will be. This shownotes email is free, too, so please—forward it to a friend, and if you haven't already, join our email list and be on top of it every time there's a new episode.
Find more about Jess here, Sarina here and about KJ here and don't forget our sponsors and partners!
Have you checked out Author Accelerator's Book Coach training at bookcoaches.com/amwriting? Seriously, if every time you hear us talk about book coaching, you think to yourself—hey, I could do that!—you should. They have great programs for fiction, non-fiction and making your side-gig full time—and they offer tuition help for BIPOC coaches as well—more info on that at bookcoaches.com/equity.
And if you haven't tried Dabble yet, YOU MUST. Just go play with the storyline building tools. Trust us.