Sep 11, 2020 • 45M
Episode 228 #Embedded with Jeff Selingo
Entertaining, actionable advice on craft, productivity and creativity for writers and journalists in all genres, with hosts Jessica Lahey, KJ Dell'Antonia and Sarina Bowen.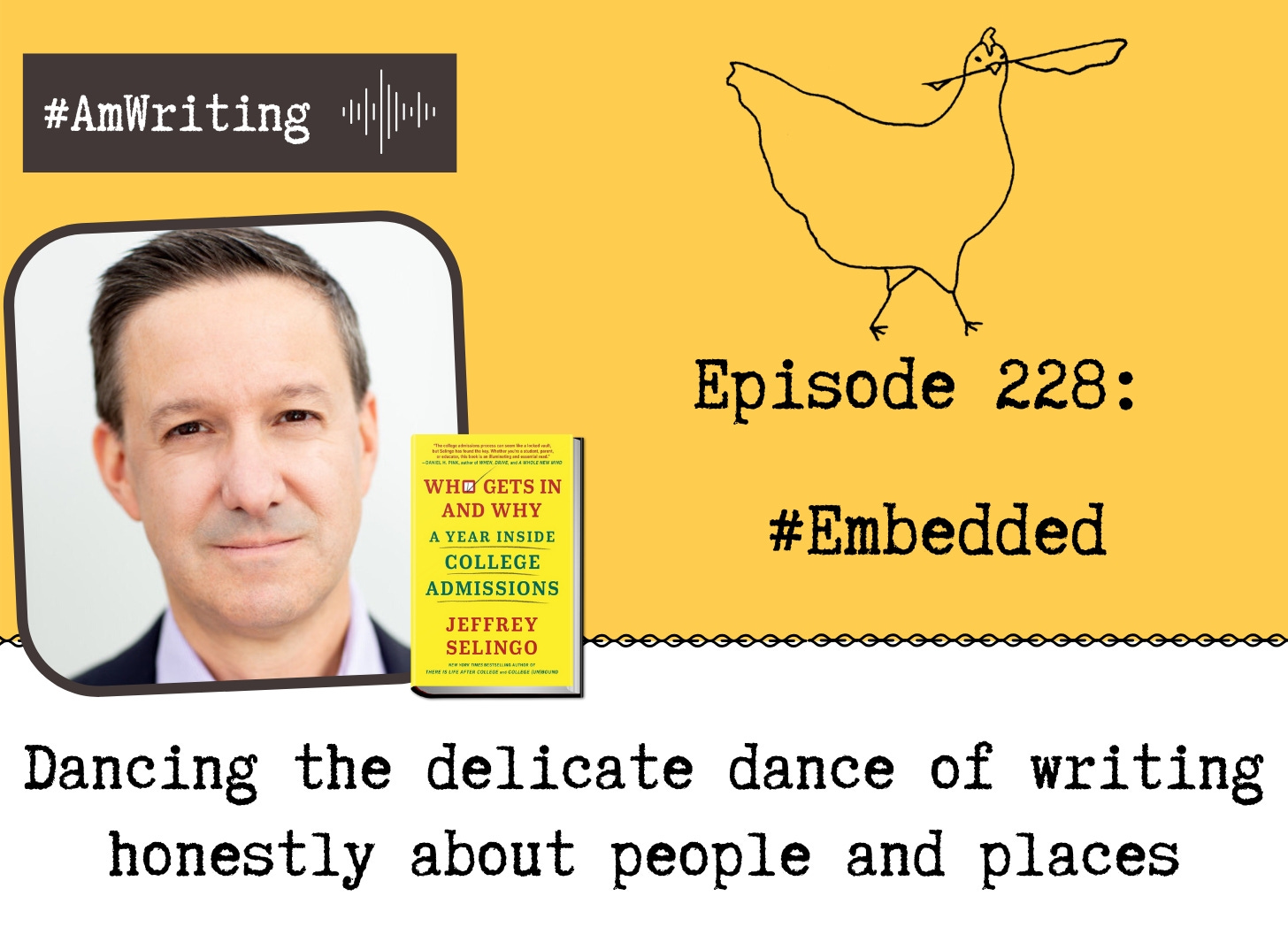 Not everybody wants an author hanging around their office all day.
Our guest is a best-selling education writer Jeff Selingo, already an expert on college and higher education who took that one step further for his latest: Who Gets In and Why: A Year Inside College Admissions. Jeff managed to embed himself in three admissions offices to write this book, a feat that will boggle the mind of anyone familiar with the industry (and it is an industry, make no mistake).
We talk pitching and selling the book, lining up the admissions offices and then dancing the delicate dance of writing honestly about people and places that have opened themselves up to your critical gaze, finding students to become part of your story and balancing the stories you tell—plus all the minutia of getting those stories, from consent forms to pseudonyms to not changing the outcomes by becoming part of the story.
#AmReading
Jeff: The Dry by Jane Harper
Jess: The Woods and Missing You, Harlan Coben
H is for Hawk by Helen MacDonald
KJ: Life Is In the Transitions by Bruce Feiler
Find Jeff at:
His Website: www.jeffselingo.com
On Twitter: www.twitter.com/jselingo
On Facebook: www.facebook.com/JeffSelingo
Via Instagram: www.instagram.com/jselingo
---
Thanks to everyone who supports the podcast financially. To join that team, click the button below:
But it's all good. The pod is free as it always has and always will be. This shownotes email is free, too, so please—forward it to a friend, and if you haven't already, join our email list and be on top of it every time there's a new episode.
Find more about Jess here, Sarina here and about KJ here and don't forget our sponsors and partners!
Have you checked out Author Accelerator's Book Coach training at bookcoaches.com/amwriting? Seriously, if every time you hear us talk about book coaching, you think to yourself—hey, I could do that!—you should. They have great programs for fiction, non-fiction and making your side-gig full time—and they offer tuition help for BIPOC coaches as well—more info on that at bookcoaches.com/equity.
And if you haven't tried Dabble yet, YOU MUST. Just go play with the storyline building tools. Trust us.
And—have you checked out the Bookable Podcast? Audio explorations of the books you might want to read next, with a host who's a veteran of a much-loved, much-missed NYC live monthly book event.