Apr 17, 2020 • 43M
Episode 207 #ProfessionallyMarried—for life
Entertaining, actionable advice on craft, productivity and creativity for writers and journalists in all genres, with hosts Jessica Lahey, KJ Dell'Antonia and Sarina Bowen.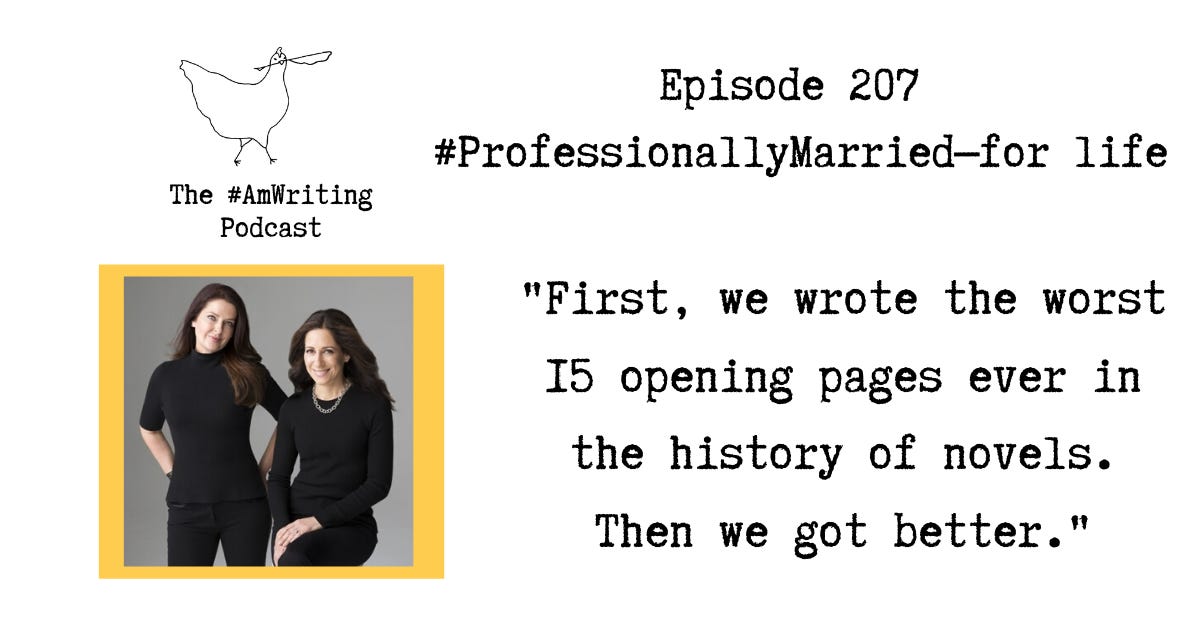 Hey #AmWriting Listeners. It's April 13, 2020, and this episode, like the last, is a throwback to a simpler time, when we left our homes without masks and took baristas and lattes and a whole lot of other things for granted. So it may feel jarring that we're not discussing the current situation, but at the time there was little to discuss—and we wouldn't have, anyway, because our guests, Greer Hendricks and Sarah Pekkanen, had so much fantastic advice to share about co-writing, writing suspense and just writing in general. They were a blast to talk to, and we hope they're hard at work on a new thriller via Google docs.
If you're hard at work on a project—or would like to be—our sponsor, Author Accelerator, has some free resources for this tough time, including a free ebook—The brilliantly titled Writer's Guide to Agony and Defeat, writing resources for families and an upcoming webinar with creativity coach Jennifer Louden that's just what every writer needs: Why Bother? Why write this book, and why now? I'm already signed up for that one. Find more at authoraccelerator.com/spring2020writingresources.
Greer Hendricks  and Sarah Pekkanen are the co-authors of New York Times bestsellers The Wife Between Us, and An Anonymous Girl. Their latest book is YOU ARE NOT ALONE, on-sale March 3. We're recording just before its release, and it's getting a TON of buzz. I loved a Bookstagram review that called it "intrusive, suffocating and creepy. In a good way."
Here's the background on these two: Sarah is a former journalist and the author of 8 novels--with Greer as her editor. They decided to collaborate, and the rest is history--that we will be digging into in depth on the podcast.
You're going to be jealous. But in a good way.
LINKS FROM THE PODCAST
A video of how Greer and Sarah collaborate.
Before I Go to Sleep, S.J. Watson
Gone Girl, Gillian Flynn
Some of our favorite co-written things:
Nick & Norah's Infinite Playlist by Rachel Cohn & David Levithan (They each took a character)
The Nanny Diaries by Emma McLaughlin and Nicola Kraus (They passed it back and forth)
KJ's: The Knockoff and Fitness Junkie, by Lucy Sykes and Jo Piazza (They pass it back and forth, but Jo's the plotter and Lucy provides the juicy stuff.)
FIND OUT MORE ABOUT OUR GUESTS:
http://www.greerhendricks.com/
#AmReading
Greer: Dear Edward, Ann Napolitano
Sarah: Good Morning Monster: A Therapist Shares Five Heroic Stories of Emotional Recovery, Catherine Gildiner
KJ: The Worst Best Man, Mia Sosa
Brooklynaire, Sarina Bowen
Sarina: What Happens Next, Colleen Clayton