Dec 27, 2019 • 43M
Episode 191 #2020Goals
Entertaining, actionable advice on craft, productivity and creativity for writers and journalists in all genres, with hosts Jessica Lahey, KJ Dell'Antonia and Sarina Bowen.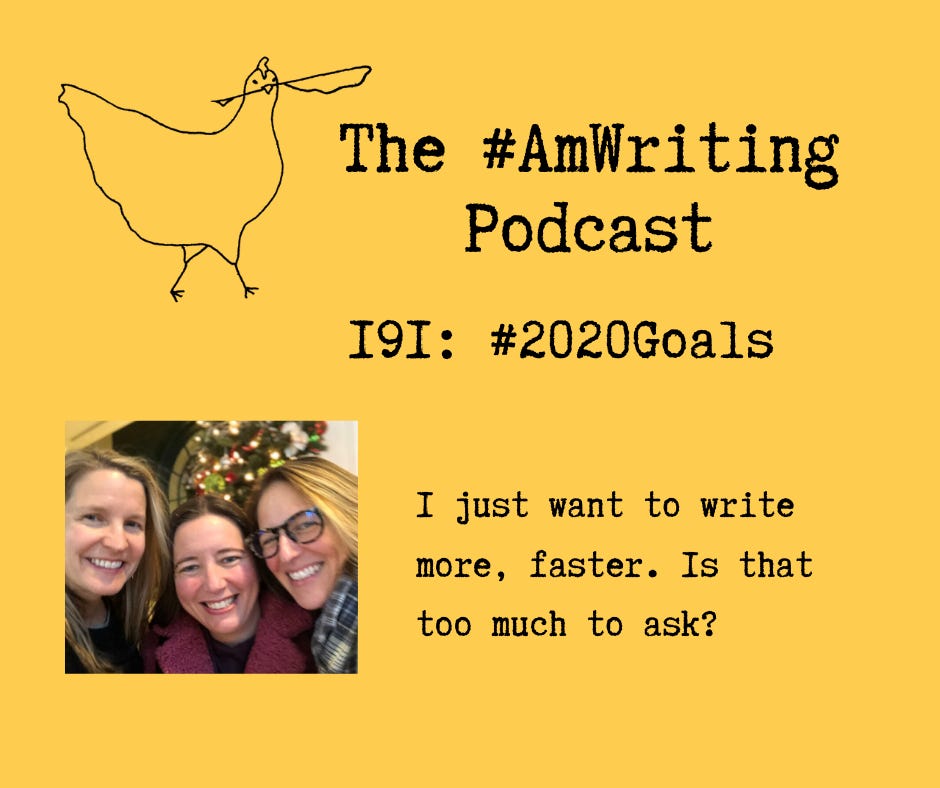 Whoa. Fellow writers, 2020 is upon us. And here at #AmWriting HQ, we love setting annual goals. We really do. We adore everything about it, from the anticipation and planning to the writing them in our handy dandy notebooks (although this year KJ got paralyzed by the need to make them pretty and ended up with temporary under a to-do list scribbles).
One reason we love it so much is that we feel good about our goals. Typically, we tend to reach them—and that isn't because we're super-people. It's because we set the right kinds of goals. Things we can control, that are within our reach, that can me measured and revisited and that hold us up and support us in our work. And we also love words—which means we love choosing our word of the year. This year we've got three good ones. Listen in, and then share yours in our Facebook group.
If you're working on goal setting and want to read more about how we make goals work for us, we've got something for you, our loyal email subscribers: a goal-setting mini-ebook. Download it here.
Links and transcripts are having a holiday break—but the next #WritersTopFive is already scheduled for Monday, January 6, 2020: Top Five Ways to Find the Right Agent to Pitch. Those Top Fives are how we thank our supporters, who tell us how much they appreciate the podcast by funding it at $7 a month or $80 a year. The end of the year is a great time to do just that—and you won't want to miss that Top Five or the ones that come after. Ready to join us? Just click the button.
As always, this episode (and every episode) will appear for all subscribers in your usual podcast listening places, totally free as the #AmWriting Podcast has always been. This shownotes email is free, too, so please—forward it to a friend, and if you haven't already, join our email list and be on top of it with the shownotes and a transcript every time there's a new episode.
This episode was sponsored by Author Accelerator, where January is Become a Book Coach Month. Sign up for mighty and wondrous Business of Book Coaching Summit here—or visit https://www.authoraccelerator.com/amwriting for details, special offers and Jennie Nash's Inside-Outline template.
Find more about Jess here, Sarina here and about KJ here.
If you enjoyed this episode, we suggest you check out Marginally, a podcast about writing, work and friendship.