Dec 13, 2019 • 43M
Episode 189: #WhatWritersWant(thatmoneycanbuy)
Entertaining, actionable advice on craft, productivity and creativity for writers and journalists in all genres, with hosts Jessica Lahey, KJ Dell'Antonia and Sarina Bowen.
We all know you can't really buy the things we writers want: inspiration, the power to spend as much time writing our books as we do thinking about them—not to mention sales, agents and editors. But you CAN grab a few things that make the writerly journey more fun. In this episode, we talk about the joys of journals and the perfect markers, tech tools that qualify as investments and those that are a little less spendy and suggest a few gifts for your writer groups stockings—including custom socks.
Episode links follow—but first, a preview of the #WritersTopFive that will be dropping into #AmWriting supporter inboxes on Monday, December 16, 2019: Top 5 Things to Do to at the Start of a New Nonfiction Project. Remember, you can GIFT a supporter subscription! Or sign up to support us yourself.
On that note, there are affiliate links in this post. Most will go to support the podcast, but the things KJ "borrowed" from Catherine Newman's gift guide are her affiliate links (and she's donating the proceeds this year). As always, this episode (and every episode) will appear for all subscribers in your usual podcast listening places, totally free as the #AmWriting Podcast has always been. This shownotes email is free, too, so please—forward it to a friend, and if you haven't already, join our email list and be on top of it with the shownotes and a transcript every time there's a new episode.
And now, this week's links!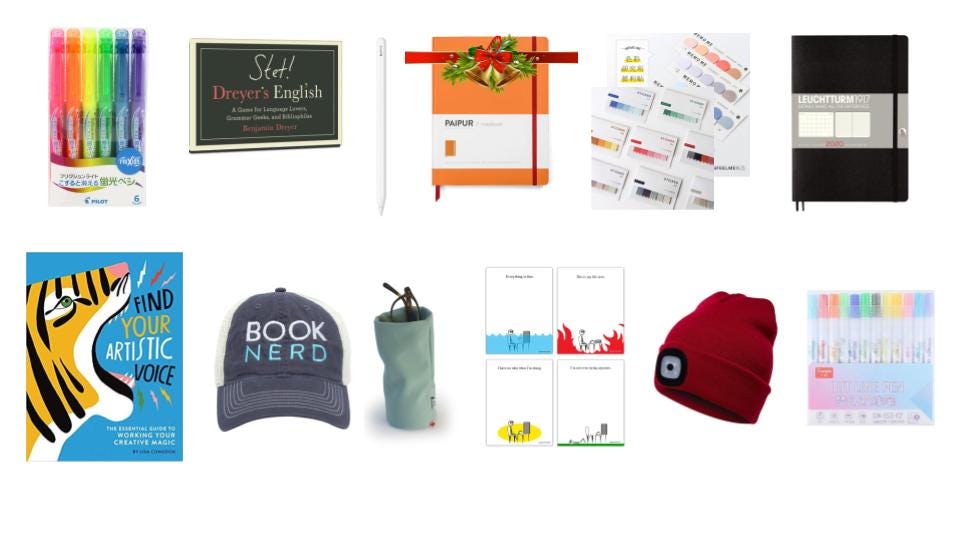 LINKS FROM THE PODCAST
The Leuchtturm B5 bullet journal with monthly pages we all use.
From KJ:
KJ's two sets of sticky notes: the color dots, and the color flags, from the glorious gift guide of one Catherine Newman.
KJ's new favorite notebook, from Sarina (and Paipur—here's their direct website).
Books and art supplies KJ is craving:
Finding Your Creative Voice, Lisa Congden
A set of watercolor paints like this one, also snatched from Catherine's gift guide. And hey, why not this book she liked, too? A Field Guide to Color, Lisa Solomon.
The outline pens KJ keeps seeing on Instagram—or something like them— are here in plain, and here in glitter.
We talked about classes from Skillshare, BluPrint and Master Class.
Give the Gift of a Podcast here.
From Jess:
Book Nerd hat I bought at Parnassus but you can get from Out of Print
Night Scout Rechargeable LED beanie in red
Tät Tat "sacco" upright pouch for glasses in grey blue
The Every Day Calendar from Simone Giertz (her useless robot video is here)
Pre-order Benjamin Dreyer's Stet! Grammar game, out July 7, 2020
From Sarina:
Frixion no-bleed, erasable markers in fineliners and plumper versions
Nebo app for handwriting-to-text 
This episode was sponsored by Author Accelerator, the book coaching program that helps you get your work DONE. Visit https://www.authoraccelerator.com/amwritingfor details, special offers and Jennie Nash's Inside-Outline template.
Find more about Jess here, Sarina here and about KJ here.
If you enjoyed this episode, we suggest you check out Marginally, a podcast about writing, work and friendship.
There's no transcript for this week's episode. Transcripts will return next week.