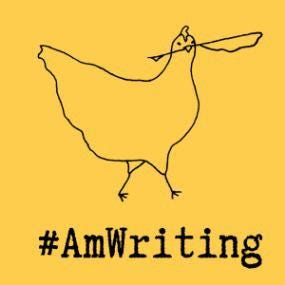 May 3, 2019 • 41M
157: #ExcitedAboutWords
Entertaining, actionable advice on craft, productivity and creativity for writers and journalists in all genres, with hosts Jessica Lahey, KJ Dell'Antonia and Sarina Bowen.
Podcasting from Mom 2.0 Conference with podcaster, journalist and author, Nicole Blades. She tells us about the pros and cons of skipping an agent, using rejection as fuel, and the joys of the writer community.

Nicole Blades is a Podcaster (Hey, Sis! Podcast), Author of Have You Met Nora?, The Thunder Beneath Us, & Earth's Waters --and this is a glorious episode, recorded live and in person at Mom 2.0, in which we really capture the joy of writing, of finding your novel, of getting to do what we do.


We also get into Tall Poppies, the writer's sharing group (I'm not sure what to call it) started by Ann Garvin, which also includes the Bloom


website. I've been seeing this crew ALL OVER Insta this week, sharing each other's books like crazy, and I love it. It's a formalizing of the writer's community we all love and dream of and hopefully have (and we DO--it's called the #AmWriting Facebook group, and while we may not formalize the sharing of each other's work, we sure do do it).


And I say, as I so often do, that one of my favorite things about being a writer is that it's so easy and wonderful to share and celebrate each other. Because for one thing, we're all in this because we love books and good writing. And for another, nobody who likes books ever just bought one book.


Other links mentioned in the episode:


#AmReading


Daisy Jones & The Six, Taylor Jenkins Reid


Heavy: An American Memoir, Kiese Laymon


My Father's Stack of Books, Kathryn Schulz


Chase Darkness With Me: How One True-Crime Writer Started Solving Murders, Billy Jensen


The Other Americans, Laila Lalami


#FaveIndieBookstore


This episode was sponsored by Author Accelerator, the book coaching program that helps you get your work DONE. Visit https://www.authoraccelerator.com/amwriting for details, special offers and Jennie Nash's 2-tier outline template.


Nicole's #FaveIndieBookstore is Books Are Magic, Brooklyn, NY "Even though I now live in Connecticut, I still feel like I can own this bookstore. Because ... Books Are Magic"


Find out more about our guest, Nicole Blades, here — and check out her latest book, Have You Met Nora? here or at Libro.fm.


Find more about Jess here, and about KJ here.


If you enjoyed this episode, we suggest you check out Marginally, a podcast about writing, work and friendship.